DU manhandles Stanford in 'friendly'
August 29, 2009 | 11:04 pm
2

By George Tanner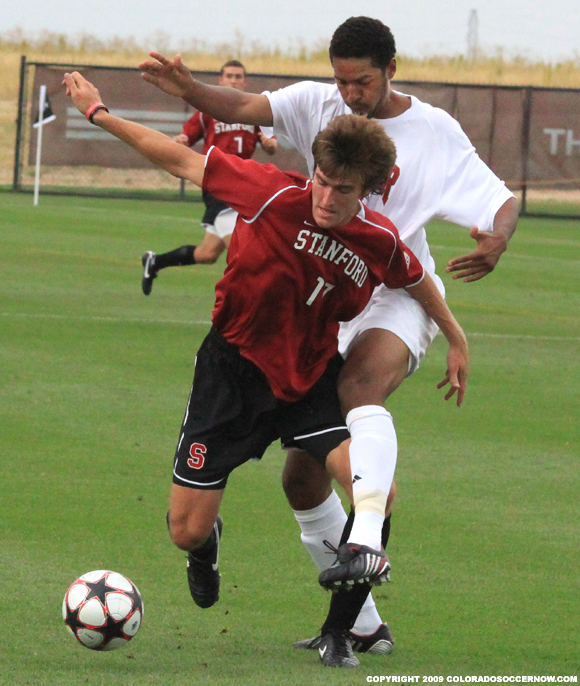 University of Denver freshman Nathan Sackeyfio tries to strip the ball from Stanford's T.J. Novak on Saturday at the practice fields at Dick's Sporting Goods Park. The Pioneers won the exhibition 3-0. (photo by Tom Auclair/ColoradoSoccerNow.com)
Stanford University is one of the finest academic institutions in the world. On Saturday, the University of Denver men's soccer team taught Stanford a lesson.
In a 3-0 victory at the Dick's Sporting Goods Park practice pitch, the Pioneers showed Stanford that an exhibition doesn't have to be a friendly. That soccer can be a contact sport. That being a mile high can affect your conditioning. And that a team that works hard can use all of those factors to its advantage.
Drew Beckie, Nick Brant and Austin Haller scored for the Pioneers in their final tuneup before the regular season.
But this match didn't feel like an exhibition. The pace, physical play and relentless pressure of the Pioneers were at levels that most NCAA teams won't reach before midseason, if at all. Stanford probably had no idea what it was in for. One look at the gashes in the turf show how serious DU took the game.
"I'm glad you noticed that," DU coach Bobby Muuss said. "If I wanted our team to be known for something by an opposing team … it's that the guys worked hard. I think excitement would be the one word that I would like people to say, as in, 'Hey, that could be an exiciting team. They work hard, they put pressure on the ball and they play as a team.' "
That they do.
From the opening seconds, it was clear that DU was willing to do the work required to win the match. The first 20 minutes was an exercise in pressure, relentless pressure. Denver bottled up Stanford in its own end, and the Cardinal had few ideas about how to get out. The visitors didn't make a meaningful run at the DU goal in the first 20 minutes.
But how can Denver manage to sustain that type of top-to-bottom defensive pressure?
"We actually have some depth," Muuss said. "I told the guys there could be games where we could go 18, 19 deep and hopefully not lose any stride."
Denver showed its depth in the preseason match, getting its first two goals from freshmen.
Half an hour into the game, Beckie deflected a Jarold Stigall free kick past Stanford goalkeeper John Moore to cap off the Pioneers' sustained pressure. Stigall's kick came from about 30 yards out, and Moore had no chance at Beckie's glancing header.
In the 56th minute, Brant took a pass from Kyle Varvil and, with a head of steam, slipped around Moore to earn a shot at an open net. Two Cardinal defenders saw the play develop and headed for the goal to support their keeper, but Brant aimed for a spot high enough that neither Stanford player could stop his shot.
Haller finished the scoring in the final minute, lacing a line drive under the crossbar after a corner kick by Sam Garza.
HEAD OF THE CLASS: Stigall was the most impressive player on either team. Whereas much of DU's offense came in response to turnovers that the Pioneers forced, Stigall's creativity with the ball and movement in the middle of the field produced some of the excitement that Muuss was referring to. For example, Stigall took two quick toe touches late in the second half to slip through two Cardinal defenders and create a scoring chance for Jesse Henderson.
GOLD STAR: Moore's sliding stop on a point-blank shot by DU freshman Nathan Sackeyfio was the game's best save. About 75 minutes in, the Pioneers' Alex DeCosta let loose with a hard, low liner that was bound for goal. Stanford blocked it, and the ball fell to Sackeyfio just outside the goal box. Sackeyfio pounced, but Moore anticipated the play nicely despite the ball bouncing around in the penalty area after the initial shot was blocked.
ONE-ON-ONE BATTLE OF THE GAME: With less than 15 minutes to play, DU's Alex Tarnoczi and Stanford defender Hunter Gorskie had their own Greco-Roman duel for a 50-50 ball. The two clutched, grabbed, pushed, pulled … whatever they needed to do to win possession. Gorskie seemed to gain possession, but Tarnoczi had hemmed him in along the sideline and left him little room to move. Gorskie had few options, and Tarnoczi kept fighting, nearly taking the ball back. Gorskie eventually upended the Pioneer freshman in an attempt to keep the ball, but he was whistled for a foul. And Tarnoczi got a hearty cheer from the DU bench for his effort.
STANFORD FRUSTRATION: The Cardinal had some fans at the game, and they showed that it wasn't just the players on the field who were feeling DU's pressure. At one point, when a foul was whistled against DU, some Stanford snarks sharted a chant of "heaven forbid."
HIS OWN CHEERLEADERS: Quite a few Stanford supporters were among the thousand or so who turned out to watch the exhibition. And many were there to see Cardinal senior forward Evan Morgan, a Chatfield High School graduate from Littleton. Morgan led Stanford in goals in 2006, but he missed the next two seasons because of knee injuries (yes, plural; I was told they involved surgeries on both knees). Check out his bio on the Stanford soccer site.
SEEN AT THE MATCH: DU women's coach Jeff Hooker, CU coach Bill Hempen, Colorado Rapids Technical Director Paul Bravo, Houston Dynamo assistant coach John Spencer and the University of Illinois women's soccer team. The Illini are participating in a four-team tournament this week at DU. The University of Colorado faces St. Mary's at 11 a.m. today, and the Pioneers host Illinois at 1:15 p.m. today.
CARDINAL STARTERS: Moore, Hotz, Huang, Strickland, Morgan, Sa Freire, Yahyavi, Warshaw, Novak, Amman, Gunther.
DENVER STARTERS: Willis, Beckie, Humphrey, Banghart, Henderson, Tarnoczi, Garza, Shannon, Stigall, Audley, Garren.
George Tanner is a former writer and editor for the Rocky Mountain News; the Greeley Tribune; The Daily Independent of Ridgecrest, Calif.; the Durango Herald; and the Boulder Daily Camera. He is a graduate of the University of Colorado and an affiliate professor at Metropolitan State College of Denver. E-mail him at [email protected].

To advertise on Colorado Soccer Now, e-mail George at [email protected].