A soccer-based Christmas
December 26, 2009 | 10:47 am
2

By George Tanner
The folks at SoccerPro.com, one of the sponsors of this Web site,  and I recently conducted a fun experiment. We wondered what it would be like to have a soccer-based Christmas celebration. So I ran rampant through their online soccer store and picked out some gifts for my family.
My wife has all the Rapids gear and U.S. soccer gear that a wife could ever wear, so I limited this exercise to my two kids.
My son just turned 18, and his high school playing days are behind him. For his gifts, I focused more on soccer apparel than soccer equipment. His favorite team is the Rapids, of course, but once again his closet is full of Rapids gear. I decided to get a bit more exotic for him. His favorite Premiership team is ManU, so I started with a search at SoccerPro.com limited to Manchester United items.
The first item that jumped out at me was this T-shirt. I liked the graphics,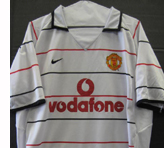 and as it turned out they offer the same design for a variety of teams. I like it, but it's winter here in Colorado. (On Christmas Day, the weather outside was frightful: The thermometer didn't get above freezing, and the wind was crazy.) I also didn't want to get him a jersey. He has many jerseys, including one of the most beautiful kits I've ever seen, the Manchester United long-sleeve third jersey from 2003, pictured at right, which is surprisingly difficult to find a picture of online. (He has the Giggs long-sleeve version.)
I kept looking, and I found this Manchester United line up jacket. He likes track jackets, and this would be a good choice. They also had this one, and this one. But I decided on the red-and-black jacket because it struck the right mix of color and design. He's 6-foot-6, which meant I went with the extra large. He's rail-thin, and I was nervous that XL would be too loose on him. But I had to make sure the sleeves would be long enough. It turns out that the XL fit just fine, and he loves it. It was a good choice.
I didn't want it to be only a ManU holiday, thus I turned to his second-favorite foreign club. When Celtic came to Colorado for the 2007 MLS All-Star Game, we took a real liking to the squad. We met some of the players and staff of the team in Denver, and we met a ton of fans. The fans were terrific, and we were impressed how many came to Colorado to see the Hoops play a rag-tag collection of American-based players. The game and the whole experience were wonderful, and the experience was something the Tanner family will never forget. I even took the night off from writing the FC Rocky blog so we could all just enjoy the match. I did publish a few thoughts a few days later, after Celtic finished the second game of its visit to the States. You can read that here.
I did another search, this time just on Celtic gear. SoccerPro.com had that same T-shirt that I liked in a Celtic green version, but he'll be wearing cold-weather clothes for the next few months. So I went that direction. I also loved this track jacket, but I wanted something different. I decided on this Celtic hoodie. And when he opened the present, he let out a big gasp and said, "Best hoodie ever." Another direct hit.
For my daughter, who is almost 20 and is a sophomore at the University of Colorado, I went in the social consciousness direction.
First, back in the spring, the men's soccer teams from the University of Denver and Regis University played a fund-raising exhibition, and DU held an auction to generate some funds for the program. My wife and I covered the event, which was the first college soccer game we did for the ColoradoSoccerNow.com.
Our daughter's favorite player is Nat Borchers, even after he left the Rapids for Norway. And, yes, even after he returned to Major League Soccer and was allocated to Real Salt
Lake. Borchers, a native of Pueblo and an alumnus of DU, donated a couple of his RSL jerseys for the auction. For our daughter's main gift this Christmas, we broke the bank bidding on the long-sleeve dark jersey, pictured at right, which Borchers autographed. We also bid on a team-autographed Seattle Sounders goalkeeper's jersey, which went for more money than we could afford, and I have kicked myself numerous times since that day for not bidding on a Columbus Crew jersey that was autographed by Guillermo Barros Schelotto and all of the 2008 MLS champions. But we won this RSL jersey, which became the second Borchers-autographed jersey she has; she also owns the white road jersey from the days when the team wore black and blue. She got Nat to sign it after a match. "I don't like primary colors, but I will wear this jersey," she said. She wore it Christmas Day, and she was wearing it the day after, as well.
In addition to that, we got her a T-shirt promoting the Homeless World Cup, an annual international soccer tournament consisting of people who are homeless. They take a once-in-a-lifetime opportunity to represent their country in this event, which has triggered grass-roots football projects in more than 70 nations that work with more than 30,000 homelesspeople throughout the year. The first tournament took place in 2003, uniting 18 national teams. Six years later, 56 nations were united in Melbourne, Australia, in 2008, which included the first women's cup. The next tournament is in Rio in September 2010, and 64 nations are expected to participate. Learn more about the tournament here, and see who will be representing the United States here.
The Homeless World Cup supporters include UEFA, Nike, the United Nations, Manchester United, Real Madrid, Ambassador Eric Cantona and international footballers Didier Drogba and Rio Ferdinand.
On three gifts at SoccerPro.com, I spent $130, and I and bid roughly the same amount of my money at the DU auction. Each gift was a hit, and I would like to thank one of our site's first sponsors for suggesting this creative idea.