Real Colorado midfielder Beth West
July 22, 2009 | 12:29 pm
2

By George Tanner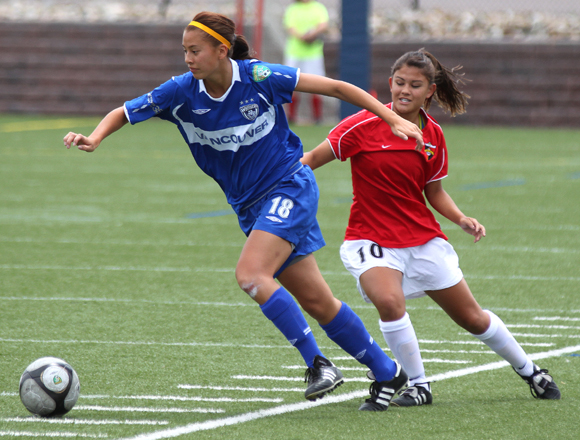 Real Colorado midfielder Beth West tracks down Vancouver's Monica Lam-Feist on Sunday in Highlands Ranch. (photo by Tom Auclair/ColoradoSoccerNow.com)
Sunday's Real Colorado season finale marked the end of a busy stretch for Real Colorado Cougars midfielder Beth West. The 19-year-old had spent the previous week training with the U.S. U-20 team in Boulder. The Yanks played two games against Canada, winning 8-0 and 2-1, then finished up with a 3-0 loss against her W-League team. When West is not representing her country or playing with the Cougars, who finished their season 4-5-3 and a tie for third place in the Western Conference, she plays for Texas A&M University. She took some time after Sunday's 4-1 Cougars victory over Vancouver to talk. …
How was it playing against Real Colorado for a change?
It was interesting, but it was fun. There were a lot of girls I know, but we had a lot of guest players, too.
Where do you fit in to the national team?
I'm actually playing defense for the national team. I play left back and right back. I prefer midfield because I've played there my whole life. But wherever they need me, I'll play there. We have the World Cup coming up next July, and that's what we're working toward right now. We'll see where we go from there.
What are your chances of playing in that World Cup?
I think they're actually pretty good right now. The World Cup is going to be in Germany, and I was just there. We played England and Germany. We beat England, and we tied Germany.
How do the Cougars fit into your busy schedule?
I love playing with the Cougars. It's great soccer, played in the summer, and you keep in shape with the college season coming up. I love all the girls. Hopefully I'll still be around next summer. However long the team keeps playing, I'll play with them, probably all throughout college.
Is it beneficial for you?
It's just good touches on the ball, getting to play with other collegiate athletes who are playing at a high level. It's fun traveling with the girls and just hanging out. And I love the coaching staff, too. All around, it's a really good thing. We have a lot of good teams in this league, and all the teams are pretty even. It's a good league.
Are you happy with the W-League season?
Obviously we're disappointed we didn't make it to the playoffs. Overall I think we did pretty well. I think we could've done better earlier on in the season. We could've capitalized on some games we needed to win. But overall it was a fairly good season.