MLS pool goalkeeper Chris Sharpe
August 13, 2009 | 4:33 pm
3

By George Tanner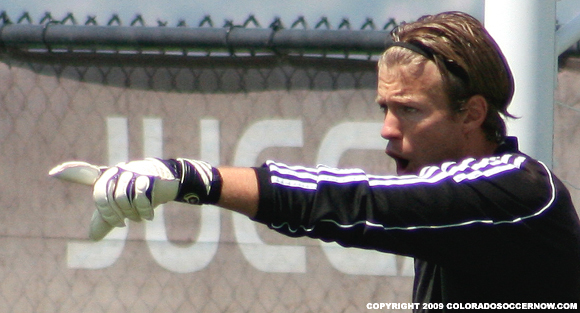 Goalkeeper Chris Sharpe directs traffict during a Colorado Rapids reserve match on Wednesday at the Dick's Sporting Goods Park training ground. (photo by George Tanner/ColoradoSoccerNow.com)
A few Colorado fans might recognize goalkeeper Chris Sharpe, but the Rapids players certainly did on Saturday night. With Sharpe suited up for Chivas USA at Dick's Sporting Goods Park, many of the Rapids bumped fists or shook hands or patted him on the back as they passed the Goats' bench.
Sharpe's rights are owned by the Rapids, and he trains with the Rapids. He pitched a shutout against a local college team in a training match Wednesday with the Rapids' reserves.
But Sharpe has a contract with Major League Soccer, and he's used as an emergency backup whenever there's a need around the league. After Zach Thornton hurt himself at the MLS All-Star Game, Chivas had a need. On Saturday, Sharpe rode the bench as the Rapids shelled Chivas starter Lance Parker with four first-half goals. But Chivas head coach Preki kept Parker in the game (and Sharpe on the bench), using all three of his substitutions for fresh field players at the start of the second half.
Sharpe is originally from Australia. He played for three years with Viborg FF in the Danish Superliga, was sold to Koge Boldklub in the Danish first division in 2007 then came to America. Sharpe lives in Denver now and was the goalkeeping coach for the Colorado Force of the W-League this year.
I caught up with him after Saturday's Rapids game and during training on Wednesday.
How did you find out you'd be with Chivas USA on Saturday?
The team administrator rang me up Thursday to let me know that Zach was out injured and that I'd be coming in.
When was the first time you met anybody from Chivas USA?
I was here last year for a little bit. I was called in for the SuperLiga last year, so I knew quite a few of the boys and the coaches and stuff. Leo (Percovich, the Rapids' goalkeeping coach in 2006 and 2007, who is with Chivas USA now) was obviously here.
What about this week? When did you first meet with the team before the game?
Today (Saturday). Saw the boys this morning for the first time today. They were at the hotel at 9:30 this morning. They got in last night.
Did you get any training time with them?
No. Just warmed up today, and that was it.
It looks like they had a jersey and warmups all ready for you.
They knew quite well ahead of time that I was coming in and coordinated with Kevin (Esparza), the team administrator, and Raul (Guerrero), the kit manager here, to have it ready for me.
What about next week?
I don't know. They'll tell me. I guess I go back home and see how Zach's doing. It depends on how he's doing. I'm sure if he's not doing well I'll be with them next week as well.
How does the MLS contract work for you?
The Rapids've got my rights. If I'm not on the squad in the weekend, then any other team can come in and put my name in the mix in the MLS. And if they say yes, then I can go.
How often does this happen?
This is my fourth time this year. Last year quite a bit, actually. Spent quite a bit of time away. Spent a couple of weeks here (with Chivas) last year. But all of last year I was here because it was Bouna (Coundoul) and I last year. So I spent half the season here on the bench. Columbus and Chivas this year.
How did everybody on the Rapids treat you this week?
The boys knew yesterday, so they were great. I got to training yesterday morning and the boys were doing set plays and stuff like that, and the boys were telling me to go back to the dressing room so I don't go in here and tell everybody (with Chivas) what's going in.
When the score became 4-0 in the first half, did you think you might be getting into the game?
I don't know. Lance pulled up a little sore in his warmup, and I thought practicing before the game I was going in. The goalkeeping coach came to me and said, "Look, just get yourself ready. You might be going in. He's hurt his hammy a little bit." At any given point, I just had to be ready to go in for him if he didn't feel comfortable.
Were you disappointed when Preki used all three subs at halftime?
Yeah, I mean all the boys on the bench were quite disappointed. It would've made it very nice, I'll tell you that, to play against the boys.
What is your long-term goal?
Get that roster spot. It's just hard now, with that 24-man roster. I felt I've done quite well this year, especially around training. I'd love to get a spot on that roster in the next few years.
George Tanner is a former writer and editor for the Rocky Mountain News; the Greeley Tribune; The Daily Independent of Ridgecrest, Calif.; the Durango Herald; and the Boulder Daily Camera. He is a graduate of the University of Colorado and an associate professor at Metropolitan State College of Denver. E-mail him at [email protected].

To advertise on Colorado Soccer Now, e-mail George at [email protected].