Butler's opportunistic goal lifts Buffs over 11th-ranked Oklahoma State
August 22, 2009 | 10:45 pm
No comments
By George Tanner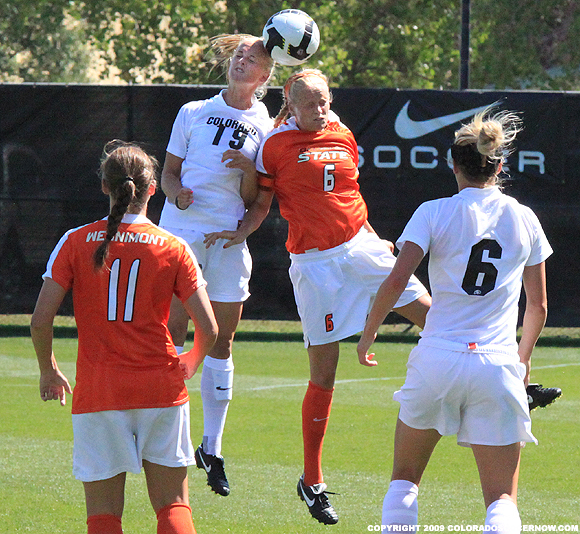 University of Colorado freshman Lauren Shaner heads the ball over Oklahoma State senior starter Kasey Langdon. Shaner made her debut for CU in the Buffaloes' 1-0 victory over the No. 11 Cowgirls on Saturday in Boulder. (photo by Tom Auclair/ColoradoSoccerNow.com)
Sophomore midfielder Kelly Butler scored in the 52nd minute as the University of Colorado soccer team knocked off No. 11 Oklahoma State 1-0 on Saturday in Boulder.
Butler's goal in the Buffaloes' Big 12 opener came after a cross from the right wing by senior Ally Goodman. Cowgirls goalkeeper Adrianna Franch came off her line to break up the play but wound up making a meal of it.
And Butler feasted, beating two defenders to the misplayed ball and banging into the unattended goal.
"I think there were a couple of us in the box, and the goalie just tipped it off, didn't have a clean save. So i just finished it," said Butler, who wasn't planning for Franch to muff the cross but was ready for the possibility. "I think you have to expect it either way."
CU coach Bill Hempen said his Buffs are trained to expect just such a situation.
"We tell our kids to follow everything, and it was a mistake. Their goalkeeper, who I think is going to be a very good goalkeeper, she dropped the ball," he said. "And fortunately for us, one of our kids stayed in the moment and stayed in the play and finished into an empty net."
The goal followed a first half in which both teams struggled to mount an attack.
Each team's defense was organized and effective, and both teams could move the ball into the midfield easily enough. But pushing the play into the forward third was the problem. With the defenses clicking so well, the offenses foundered.
"They had a solid line of defense that wasn't allowing us to get the ball," Hempen said. "These two teams have played this way a lot in the last five games. We have it for a while; they have it for a while. Some kind of tactical move will change the game.
"That was a chess match," Hempen said.
In the second half, that tactical change for CU was pushing the tempo and being more direct. And in a game that easily could've finished without a goal, the Buffs found one.
"It's a great start for us," Butler said. "I think in our exhibition games we came out a little bit slow, but i think it's coming together."
PLAYER OF THE MATCH: Butler, a sophomore midfielder from Illinois. She got the goal, and that was the difference.
DEFENSIVE PLAYER OF THE MATCH: Kate Russell routinely took the ball from the Cowgirls. She positioned herself well to be a thorn defensively, and after creating a turnover, she calmly redirected possession toward the opposing goal. It was a mature performance for a sophomore, and it helped keep Oklahoma State off the score sheet.
SHUTOUT: Senior goalkeeper Kara Linder made three saves in recording her first shutout and first victory of the season.
DAY OF FIRSTS: Freshman Amy Barczuk played the full 90 minutes in her first game for CU, and Quinn Krier, Erin Bricker and Lauren Shaner also debuted for the Buffs. Sophomore Kelci Newlin and junior Taryn Vitacca recorded their first career starts for Colorado.
SCARY MOMENT: Preseason All-America selection Nikki Marshall, who played at center back on Saturday, went down in the second half, and play stopped for about five minutes. Fortunately, the diagnosis was only cramps, suffered on a day when the high was around 95 degrees. "She'll be fine by the next game," Hempen said, joking that she needs to change her pregame intake of liquids. "We need to dump more Gatorade and Pedialyte and water and everything else. She needs to go to the hospital and take it intravenously the night before the game."
ATTENDANCE MATTERS: The CU athletics Web site lists the capacity at Prentup Field as 2,000. I'm a poor judge of crowd sizes (as many readers have pointed out), but I'd guess Saturday's crowd was right at 2,000. Many fans were spread out in their own chairs along the sidelines and into the corners, but there were some empty spots in the bleachers. I'm guessing that if every fan climbed into the bleachers and sat thigh to thigh, the stands would've been full. So let's put Saturday's attendance at 2,000. It was an impressive showing by CU and OSU fans on a hot day.
UP NEXT: Colorado will face another ranked opponent, No. 17 Illinois, at 4 p.m. Friday at the University of Denver.
OKLAHOMA STATE STARTERS: Dougherty, Treadwell, Langdon, Richardson, Leggett, Niemeier, Miller, Michalowski, Strawser, Mercado, Franch.
CU STARTERS: Linder, Newlin, Menachof, Barczuk, Lowry, Fitzpatrick, Buter, Russell, Vitacca, Marshall, Danneberg.
George Tanner is a former writer and editor for the Rocky Mountain News; the Greeley Tribune; The Daily Independent of Ridgecrest, Calif.; the Durango Herald; and the Boulder Daily Camera. He is a graduate of the University of Colorado and an affiliate professor at Metropolitan State College of Denver. E-mail him at [email protected].

To advertise on Colorado Soccer Now, e-mail George at [email protected].