Buffs host Texas Tech on Friday
October 29, 2009 | 12:13 pm
No comments
By George Tanner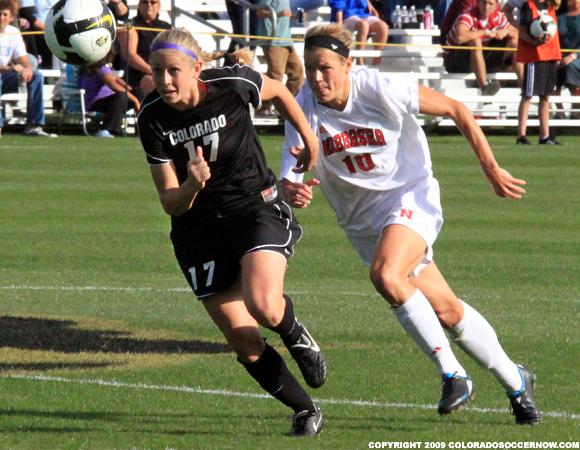 CU senior Nikki Marshall, left, and University of Nebraska defender Carly Peetz chase down a loose ball at Prentup Field. (photo by Tom Auclair/ColoradoSoccerNow.com)


The University of Colorado soccer team will host Texas Tech at 3 p.m. Friday in its final regular-season match.
The Buffaloes (8-9, 5-4 Big 12) will celebrate Senior Day and honor Ally Goodman, Kara Linder, Nikki Marshall, Kelly Menachof, Tobie Rippy and Mary White with a post-game celebration. The game is set to air live at 3 p.m. on FSN with an approximate 3:08 p.m. kickoff. Marc Stout will handle the play-by-play duties, and Marcelo Balboa will provide the analysis.
The Buffaloes are coming off a pair of Big 12 road games last weekend in which they dropped a 2-0 decision to No. 20 Texas A&M on Friday and fell 1-0 in double overtime to Texas on Sunday.
Texas Tech (8-7-3, 3-3-3 Big 12) enters the weekend after back-to-back ties with Texas on Friday and Texas A&M on Sunday. Tech had an early 2-0 second-half lead over Texas, but the Longhorns fought back in the last 20 minutes. Two days later against Texas A&M, Tech held the nationally ranked squad scoreless in 110 minutes of play. The Red Raiders are led by Dawn Ward with 13 goals and one assist and Taylor Lytle with four goals and 11 assists. Colorado owns the overall series with Texas Tech by a decisive 10-2-1 margin, and CU is 5-1 when facing the Red Raiders at home.
Colorado's senior class came to campus in a few waves, starting in the fall of 2006. Goodman, Linder, Marshall and White arrived as freshmen, Rippy as a sophomore and Menachof as a junior. The class has helped lead the Buffs to three NCAA tournament appearances, including three 10-plus win seasons.
Colorado is fourth in the latest Big 12 Conference standings with 15 points. With just one conference match remaining, CU is guaranteed to make its eighth-straight appearance in the Big 12 championships. The top eight teams based on points at the end of the season qualify. In league play, three points are awarded for a win, one for a tie and zero for a loss.
Colorado is 6-1-0 at Prentup Field this season, and four of the six wins have been 1-0 shutouts. The Buffs have outscored opponents 12-4 in Boulder.
Marshall leads the Buffs in scoring with seven goals and one assist. Sophomore Kelly Butler follows Marshall with four goals and two assists for 10 points, along with eight other Buffs who have found the back of the net. Freshman Erin Bricker leads the team with three assists, and Linder owns a 1.15 goals-against average, including five shutouts.
Already CU's all-time leading goal scorer, Marshall became the all-time points leader in a win over Oklahoma. She shattered former All-American and Fran Munnelly's record (84). Marshall has 91 points and at least two games still to play.
KICK OR TREAT: Kids and adults are invited to wear costumes and trick-or-treat with other student-athletes before kickoff on Friday. Those dressed in a costume will have a chance to win prizes. Kick or Treat activities will start at 2 p.m. The first 100 fans will also receive a free poster autographed by CU's seniors. At halftime, Top Chef New York winner Hosea Rosenberg will appear. Admission and parking for all CU soccer games are free.