Conor Casey, Rapids take a bite out of Toronto FC's playoff chances
September 6, 2009 | 12:10 am
7

By George Tanner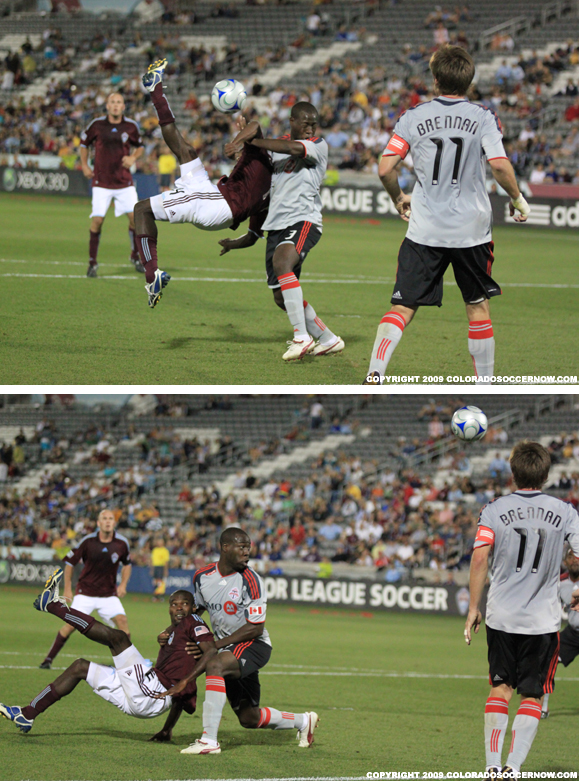 Colorado Rapids striker Omar Cummings puts a bicycle kick on goal in the second half of the team's 1-0 victory over Toronto FC on Saturday. (photos by Tom Auclair/ColoradoSoccerNow.com)
Colorado striker Conor Casey wasn't supposed to be at Dick's Sporting Goods Park on Saturday night. He wasn't supposed to score the winning goal for the Rapids in a crucial 1-0 victory against Toronto FC.
He was supposed to be one state away, playing for the U.S. men's national team in its World Cup qualifier against El Salvador in Sandy, Utah.
But Casey had surgery to remove his wisdom teeth on Monday. The Rapids said his surgeon advised him not to travel for a few days, and by Wednesday he still hadn't joined the Nats in Utah.
So U.S. coach Bob Bradley and Casey came to an agreement. Call it a bit of wisdom. They reasoned that without the training with the rest of the team, Casey was unlikely to play against El Salvador. So they decided he would stay in Colorado.
Good thing he did.
Casey's goal in the 52nd minute was the difference, as the Rapids gained the upper hand against Toronto in the fight for a playoff spot. Before the game, the Rapids had only a two-point edge over TFC. Afterward, the Canadian team was still sitting at 31 points in the standings while the Rapids shot up to 36. The teams meet again Saturday afternoon at BMO Field.
The strike came of Casey's fabulous forehead on a cross from Jacob Peterson. Omar Cummings was making a run up the right wing, but he ran out of room. He tapped back to Peterson, who had plenty of time to pick out Casey in front of the Toronto goal. Peterson's cross was true, and Casey's header was unstoppable.
"Omar has been attracting so many defenders, he's been so dangerous this season every game," Peterson said. "And when you've got a player like that who attracts attention, he attracted two guys down to him, leaving me wide open. It's my job to put that ball in in a good spot for Conor. And if I don't then I let the team down. Conor had a great finish."
The Rapids held the lead for about 25 minutes before Toronto's Amadou Sanyang earned his second yellow of the night and was ejected, leaving the visitors with 10 players on the field. And less than 10 minutes after that, Adrian Serioux, who entered the game at halftime, left in the 84th for a serious foul on Cummings.
After a long punt by Rapids goalkeeper Matt Pickens, Serioux and Cummings were rushing to get control of the ball. Serioux threw an elbow and followed through with his shoulder, knocking Cummings down about three yards outside the Toronto penalty area.
The Rapids couldn't convert the ensuing free kick, but they had so much possession in the waning minutes that the crowd at times began to count the number of consecutive passes the team strung together.
MAN OF THE MATCH: Casey was announced as man of the match at the stadium, but this was a close call. Sure he scored the goal, but he also missed a penatly kick in the first half that gave life to Toronto, which came out of the locker room fired up at the intermission. Cummings had another tremendous game, adding his league-leading 11th assist. Julien Baudet showed great skill and heart at center back, playing through injury and using the misdirection of a wily veteran to move a couple balls up the field that a defender with less experience might just boot out of touch. Pickens had another shutout, his seventh, as the Rapids maintained their dominance at home (the team has allowed only eight goals in 13 games at Commerce City, losing only twice). Jordan Harvey, Mehdi Ballouchy, Nick LaBrocca, Peterson, Kosuke Kimura … the list goes on. But I'll have to agree and take Casey. On target or off, he was the story on Saturday night, scoring his league-leading 12th goal of 2009.
MLS DEBUT: Defender Michael Holody made his Major League Soccer debut, replacing Pat Noonan in the 74th minute. Noonan left the game, Kimura pushed up into the right midfield spot, and Holody stepped in at right back, providing a larger, stay-at-home presence on D. And Holody also got his first yellow card of his MLS career. On a throw-in at the 84-minute mark, Holody kept creeping up the line looking for someone to throw to. Referee Terry Vaughn interpreted his actions as stalling and cautioned the rookie.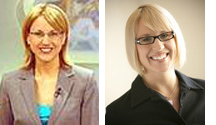 THE SEEN: A big thanks to Nick Thomas of WeWantRapidman for pointing out to me that the Toronto FC director of media and public relations is Michelle Lissel, formerly of the "Fox Sports World Report." Take a look at the pictures, and maybe you'll see why I didn't recognize her. On the left is how she appeared on "FSWR," and the picture on the right is how she looks today.
WAS THAT NEW? A sideline advertising board at the north end of the stadium was promoting gousabid.com.
GONE: Jamie Smith (knee strain), Cory Gibbs (thigh strain) and Scott Palguta (calf strain) were unavailable for the Rapids. Captain Pablo Mastroeni was serving the first game of a three-game suspension for dangerous play in last week's game against Houston. Toronto was missing Amado Guevara, who scored for Honduras in a 4-1 victory in a World Cup qualifier against Trinidad and Tobago on Saturday.
TORONTO STARTERS: Frei, Attakora, Brennan, Garcia, Gomez, Wynne, Sanyang, Vitti, Cronin, Barrett and D-Ro! (Sorry, ColoradoSoccerNow.com loves D-Ro.)
RAPIDS STARTERS: Pickens, Kimura, Baudet, Moor, Harvey, Noonan, Ballouchy, LaBrocca, Peterson, Casey, Cummings.
George Tanner is a former writer and editor for the Rocky Mountain News; the Greeley Tribune; The Daily Independent of Ridgecrest, Calif.; the Durango Herald; and the Boulder Daily Camera. He is a graduate of the University of Colorado and an affiliate professor at Metropolitan State College of Denver. E-mail him at [email protected].

To advertise on Colorado Soccer Now, e-mail George at [email protected].