Penalty kick by Casey helps Rapids to fourth consecutive tie
October 4, 2009 | 12:09 am
5

By George Tanner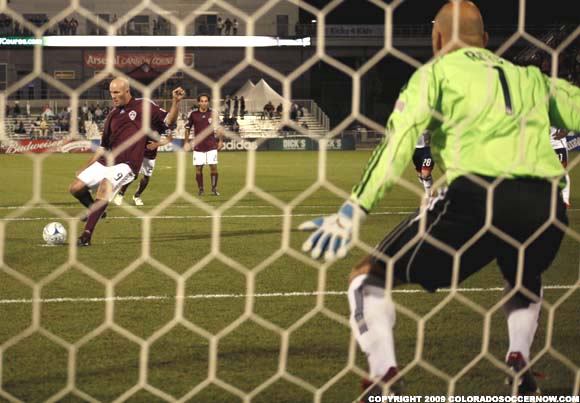 New England goalkeeper Matt Reis starts to lean to his right as Rapids striker Conor Casey takes aim for the other side of the net in the 58th minute on Saturday night at Dick's Sporting Goods Park. (photo by Jonathan Ingraham/ColoradoSoccerNow.com)
On Sept. 18, Rapids striker Conor Casey scored a second-half goal on a penalty kick at San Jose. The Earthquakes were upset at the referee's decision to award the PK to Colorado. They were angry at the result, a tie.
In the Rapids' next game, also against San Jose, Casey scored on a second-half penalty kick as the Rapids came away with another tie. The Quakes were frustrated at the outcome, once again not happy with the call.
On Saturday at Dick's Sporting Goods Park, it was New England's turn.
Casey scored on a PK, his third in the past four matches, in the 58th minute as the Rapids tied the Revolution 1-1 in Commerce City. Emmanuel Osei's foul on Omar Cummings in the penalty area set up Colorado's tying score.
After the match, New England coach Steve Nicol was still shaking his head about referee Baldomero Toledo's decision to award the penalty.
"The decision against us with the penalty was just wrong, wrong," Nicol said. "We've come away thinking we should've won the game. … Disappointed to only get a point, even more disappointed that it was a bad decision."
But if the Revs were upset about that call, the Rapids were not thrilled with another decision by Toledo, one that should've provided New England with an edge over the last 30 minutes of play.
At the hour mark, Rapids defender Julien Baudet was jostling with New England's Kheli Dube, and Baudet was incited by some action on Dube's part. Baudet made a large sweeping motion toward Dube with his arm, an attempt to put some distance between him and the Revolution forward.
Dube, though, fell to the ground. And the swing of the arm and the player on the pitch added up to a red card for Baudet.
"It's been my experience that if you raise your arm, you might get yourself into trouble," Baudet said. "But I'm pretty sure he did get a meal out of it."
New England, though, couldn't manage to possess the ball for any worthwhile period after the Rapids were forced to play with only 10 men on the field. And, in fact, it was the Rapids who had the best chance of the final half hour.
With about two minutes to play, Colorado defender Kosuke Kimura passed forward to Casey, who slipped around his marker and streaked toward goal. Casey spotted Omar making a run and passed to his forward partner. Omar got in tight enough to shoot with accuracy and power, but his shot smacked off the crossbar.
Nicol praised the Rapids for their work rate after Baudet's ejection.
"I don't think you could tell which team played a man down and which team didn't," he said.
Nicol's squad got on the board first. Dube headed in a free kick from Kenny Mansally 30 minutes into the game.
The game was the Rapids' fourth straight tie, and it extended the team's scoring frustrations. Although Casey registered his 16th goal of the season, Colorado hasn't scored a goal during the run of play since Sept. 12.
And the team hasn't won since Sept. 5. Perhaps there's some connection.
SEEN AT THE STADIUM: Former U.S. national teamer Mike Burns, who is now the Revolution's vice president in charge of player personnel.
SCARY MOMENTS: On a corner kick just seconds before the end of first-half stoppage time, Shalrie Joseph came flying in from the left side. He missed the ball, but his momentum carried him down and into the back of Omar Cummings' legs. Cummings and Joseph both lay on the turf long after all the players returned to the locker room. Omar got up after a few minutes and shook it off, but Joseph didn't get up until less than 10 minutes before the second half began. Joseph started the second half and appeared fine. Official word was that he suffered a neck sprain.
ATTENDANCE MATTERS: Not a bad crowd on Saturday. It's NFL season. It's college football season. It's still baseball season. High school sports of all kinds are in full swing. But Dick's Sporting Goods Park was proudly well-attended. The south stands were packed, as was the west side of the stadium. There were so many fans on the east side it was difficult to read the COLORADO spelled out with white seats. Not a bad turnout for October. Official count: 16,535.
WEATHER MATTERS: It was cloudy and 59 degrees when the match began, at 7 p.m.
YELLOW CARD FOR BEING SHALLOW AND PEDANTIC: Toledo could've received a yellow card of his own for making such a ticky-tack decision when he showed a yellow to Mehdi Ballouchy in the third minute. Ballouchy was cautioned for delaying a restart. A whistle? Certainly. A yellow card? Petty.
SAME PLAYER, DIFFERENT SHADE OF BLUE: Former Rapids midfielder Nico Colaluca, traded to the Revs in midseason, had played in only three games and started none before Saturday. Ain't it funny how things have a way of coming full circle? There he was in the Revs' starting lineup at Dick's. And Colaluca wanted to prove something. When he made Burpo dive to his right on a long shot in the 44th minute, he slapped his hands together strongly to show his displeasure at not scoring.
OVERHEARD: Rapids defender Rob Valentino, who was acquired in the trade for Colaluca, was getting the business from his former teammates in the hallway between the teams' locker room: "So that's what passes for game-day attire now?"
REVS STARTERS: Matt Reis, Kevin Alston, Darrius Barnes, Emmanuel Osei, Sainey Nyassi, Nico Colaluca, Shalrie Joseph, Pat Phelan, Amaechi Igwe, Kheli Dube, Kenny Mansally.
RAPIDS STARTERS: Preston Burpo, Drew Moor, Julien Baudet, Scott Palguta, Jordan Harvey, Kosuke Kimura, Nick LaBrocca, Pablo Mastroeni, Mehdi Ballouchy, Conor Casey, Omar Cummings.
SHORT SLEEVES: Baudet, Moor, Harvey, Kimura, Noonan, Casey, LaBrocca, Pablo.
LONG SLEEVES: Ballouchy, Cummings. I don't really have a point here; I just think it's interesting.
George Tanner is a former writer and editor for the Rocky Mountain News; the Greeley Tribune; The Daily Independent of Ridgecrest, Calif.; the Durango Herald; and the Boulder Daily Camera. He is a graduate of the University of Colorado and an affiliate professor at Metropolitan State College of Denver. E-mail him at [email protected].

To advertise on Colorado Soccer Now, e-mail George at [email protected].